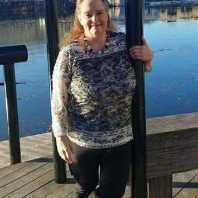 Denise McGinnis
Community Clothes Closet Coordinator
Email:
Denise was born and raised in Washington State and moved to the Midwest in 1995; first to Michigan and landing in Green Bay in 2000.  Denise has spent most of her life active in church one way or another in such roles as a Sunday School Teacher, Volunteer Coordinator, Usher and Reader.  She has always felt close to the Lord and would describe it as 'He's always been by my side.'
Denise has two biological adult children (Nick and Megan), another adopted adult child (Sarah) and has served as a treatment level foster mother to 23 additional children and counting. She is also licensed as an adult family home.
Outside of church, Denise has worked in hotel hospitality since 1999 showing her caring and compassion for people.  Through knowing a need of people she worked with, either kids coming in/out of care and/or people that were homeless in programs she worked with, she knew there was a need for clothing people within our community.  With this idea the Community Giving Closet was started in 2012.  From helping just 73 families in 2012 to almost 500 families in 2017, this has been an amazing outreach to help those in need within our community and beyond.